Life in Korea as an English teacher seems to be a never-ending journey of sorts. Everywhere you turn, there is something new and different, which makes your time in Korea very interesting. From taking the subway to exploring the local Korean convenience stores – things are simply not the same as they are back home… and that is sort of the point of traveling across the world to teach English in Korea!
Check out this awesome and insightful video made by Ben below, who explores the ins and outs of Korean convenience stores. As you will see, they are set up to be a one-stop-shop that satisfies the everyday needs of Koreans.
From being able to quick charge your cell phone to grabbing a bag of shrimp-flavored chips to eating dinner – you'll find all that you need!
Strange Snack Foods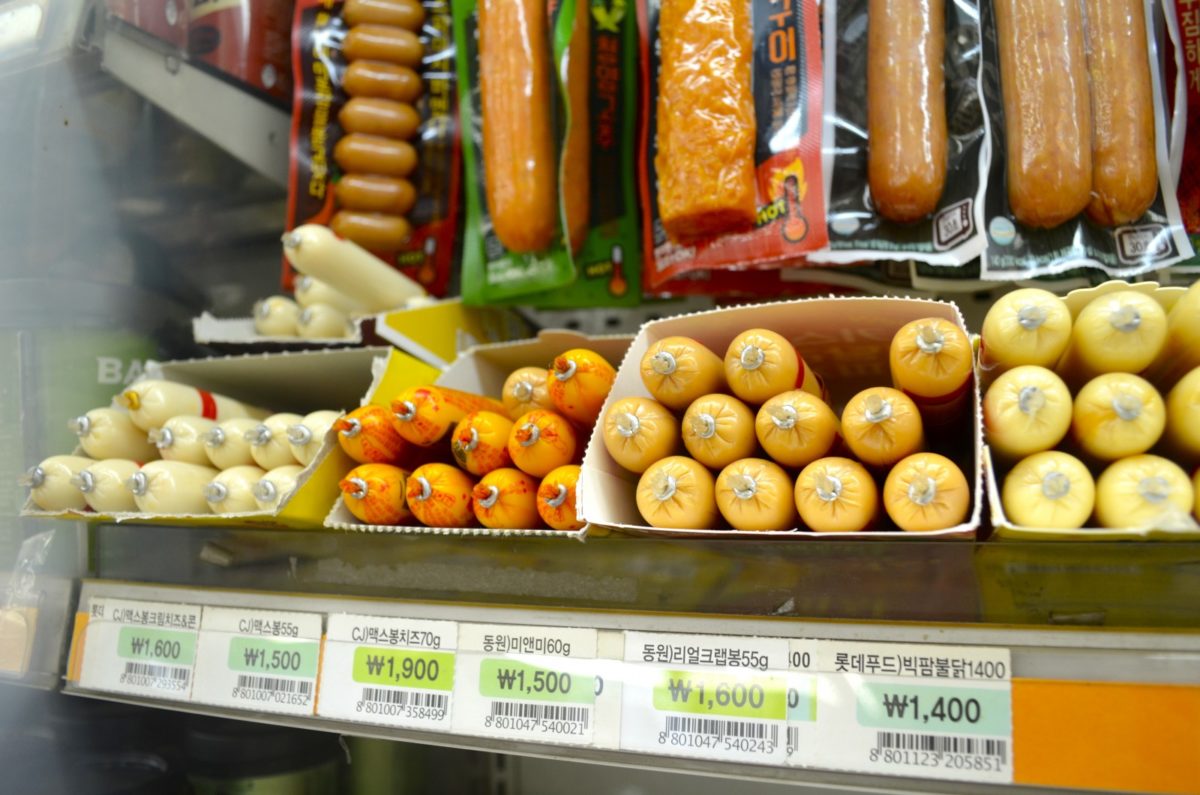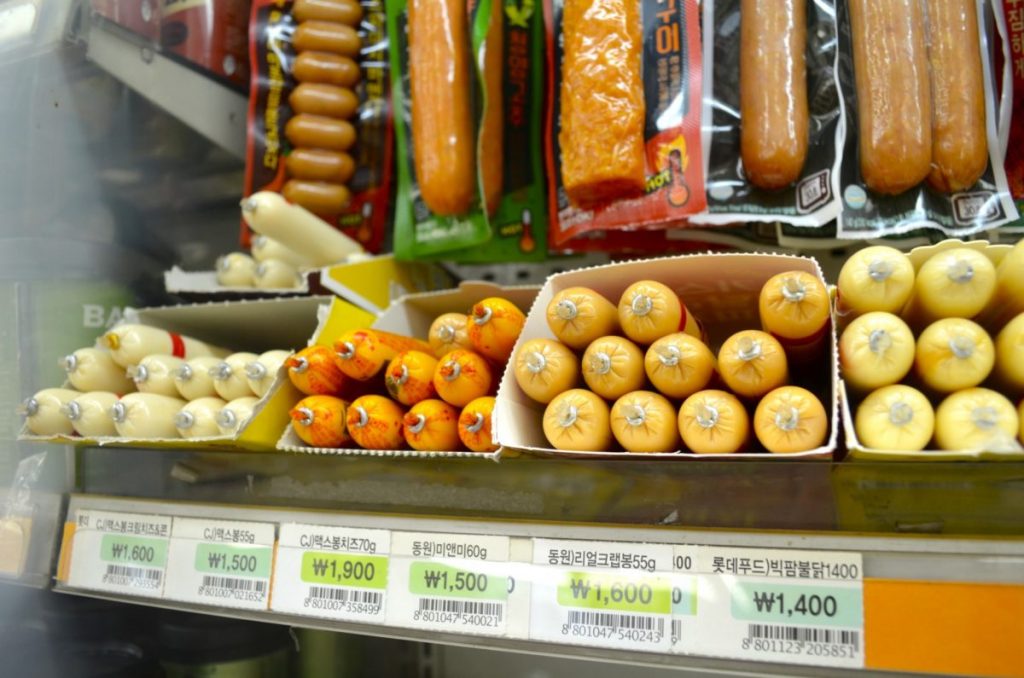 You almost need to take caution when you are randomly picking out a snack for yourself, if you are not sure what that snack actually is.
A perfect example of this are 'peel sausages'…which, in the name sounds like they would be sausages, right? However, in the photo above, they look more like cheese sticks! Both guesses would be wrong.
These peel sausages are actually made from fish products. Think of a this as consisting of the ingredients that would go into a hot dog, but is made of fish instead of…the stuff that goes in a hot dog.
Try this snack at your own peril…however, most Westerners are not big fans.
Shrimp chips on the other hand, may sound like a very weird flavor for westerners, but are actually quite good. They can be found anywhere and go great with a bottle of Soju or beer!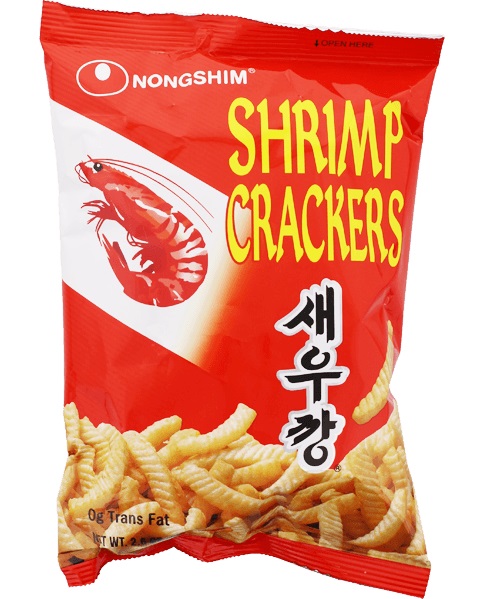 Charging Your Cell Phone & Reloading Your Subway Card
While you're munching on some seafood snacks, you can recharge your phone at one of the super-quick battery charging stations. For around 1000 won, you're phone will be charged in no time.
You can also reload your subway card at Korean convenience stores. Charging your phone here would be a better place to do this than at the actual subway station where there will likely be crowds of people lined up, especially during rush hours.
Grabbing a Quick & Healthy Bite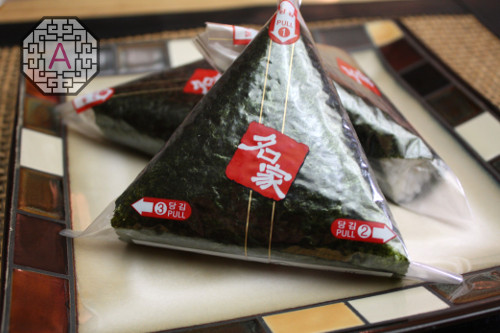 As Ben discusses above, one of the main healthy snacks that you will find in most Korean convenience stores is called 'kim bab triangles' – which translates to seaweed (kim) rice (bab) triangles. These are as filling as they are healthy (well most flavors!).
Kim bab triangles are wrapped in a way where you can easily peel and pull (instructions on the package), so that you can take a bite at a time and not have the entire triangle fall apart on you.
The main flavors you will find are: tuna and mayo, bulgogi, kimchi and spicy chicken. However, you will find different Korean convenience stores have other flavors, so make sure to explore all of them!
The Korean Ramen Culture
DID YOU KNOW?
According to
www.instantnoodles.org
, Korea has the highest per capita consumption of instant noodles (ramen) in the entire world!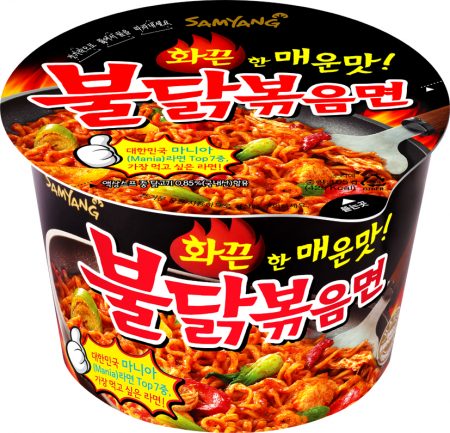 Ramen is such a popular go-to meal that in most Korean convenience stores you will find booths where people can sit or stand and eat Ramen. Boiling water is available to fill your cup as are chopsticks. Spoons are there as well, but most Koreans choose to 'slurp' the soup once the noodles are done.
There are endless kinds of Ramen that you will find including Kimchi, Fire Chicken, Curry, Spicy Seafood and more! So get out there and explore and discover your favorite! It will soon become your go-to snack of choice.
If you want to try the highest rated Ramen flavors, you can check out The Ramen Rater website which gives you details about the top 10 rated flavors.
Soju: Korea's #1 Choice of Alcohol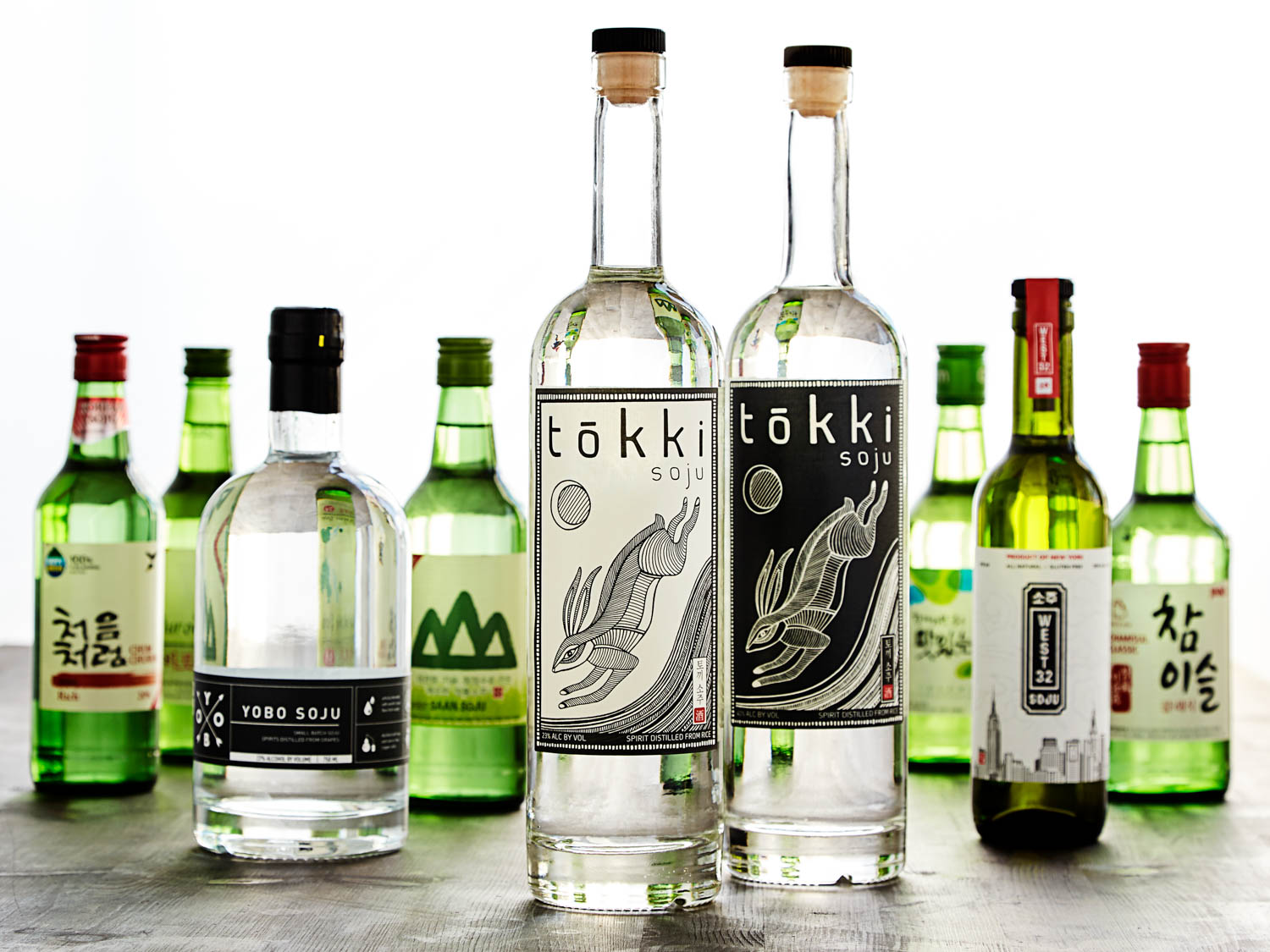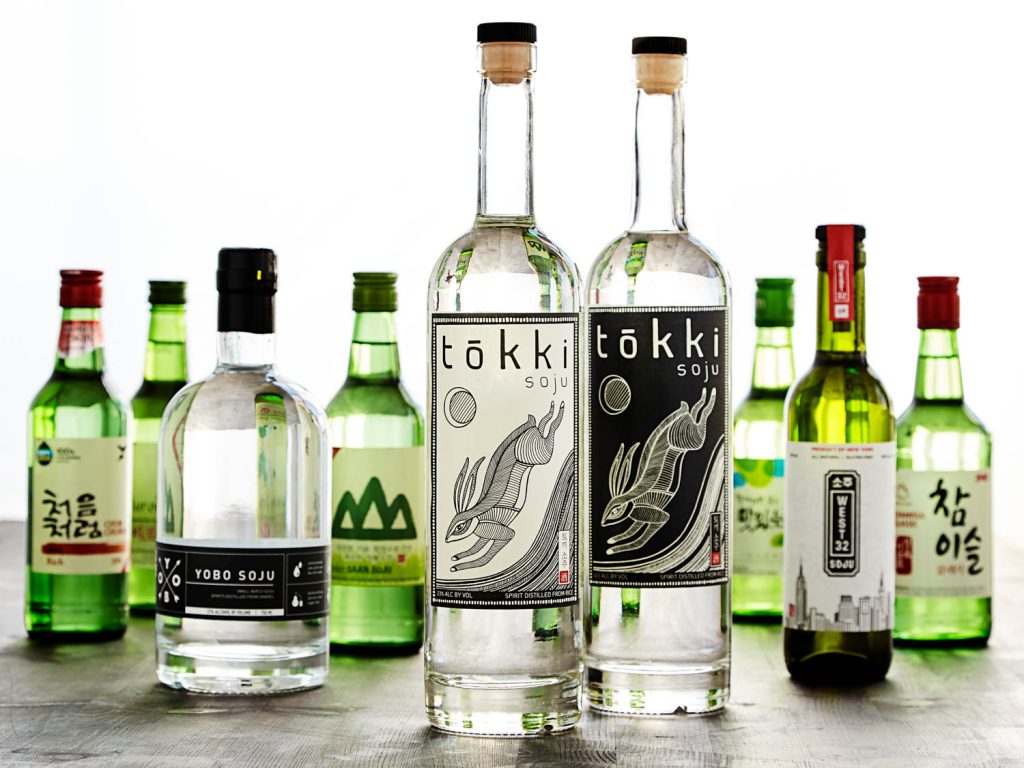 Soju is the number one spirit drink of Koreans by far. If you go into restaurants, you will no doubt see these green bottles covering tables with Korean men (for the most part), continually pouring shots for themselves and their dinner guests.
Part of the appeal of Soju is its cost. At a Korean restaurant, a bottle of Soju, with an alcohol level of 19-21%, will run you a whole 3,000 Won, around $2.50 USD; a bottle at a Korean convenience store will be around 900-1100 Won or about $1 USD.
In addition to straight Soju, you can also find many flavors that will make drinking it a little easier. Lemon and cherry are popular and are good with ice.
PRO TIP
If you are invited out to dinner and drinks with a Korean friend, keep track of the amount of Soju you drink. After a few shots, it tends to go down easy, but too much of the green stuff will come back to bite you..especially the next day! So be careful!
Beer, Wine and Other Alcohol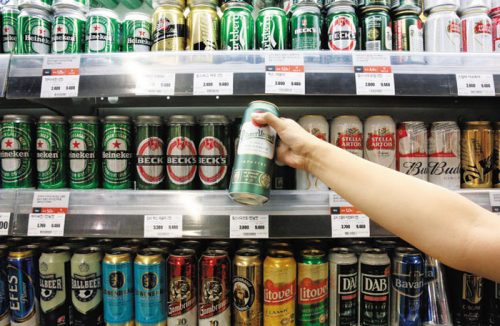 Soju certainly isn't for everyone. So it's a good thing that beer is the second most enjoyed alcoholic beverage in Korea!
And guess what? You can find beer in any Korean convenience store – not only that, but you can find a multitude of kinds of beer from all around the world.
Beers from Guinness to Heineken to Becks to Stella to even Molson Canadian (you Canucks out there will understand the irony!).
However, the cost of these imported beers are a little steep, especially compared to its Korean counterparts.
While Korean beer usually contains less alcohol (4%), and doesn't quite have the depth of flavor the western beer has, you will be able to buy a 500 ml can for around 1500 won ($1.50 USD), while a can of Carlsberg would run you around 3500 won ($3.50 USD). That may not sound like a big difference, but it will add up over time, especially if you are trying to save money while teaching English in Korea.
Our advice is to try different Korean food and drinks to see what you like. It's fine to have a taste from home once in a while, but since you are living and teaching English in Korea, you should get out there and see what is out there for you to explore!
---
If you are excited to start your journey to Korea, make sure to check out our latest jobs. Once you are ready to start your application, head on over to this page to submit your information.
Korean Convenience Stores
The Korean Convenience Store Culture
In Korea there's a huge convenience store culture now when I was teaching and living in Korea the number one place I would go snacks food today we're going to take a look show you around show you what's good there's a lot of familiar stuff to the West but there's a lot it's tough going to show you two
They here we are in typical Korean convenience stores and see we've got a lot of variety available let's go explore and see what's for sale.
Healthy Foods You Can Find 
Okay this is a kpop triangle I love these little guys.  They're a perfect snack Korea is a wonderful wrapping all to interrupt around rice and rubbed raw meat and vegetables.
Because with its beef and the bear Republic of Korea snacks equal at the light meal very good pretty healthy animals delicious of course it is a stereotype but principle of ramen and instant noodles now again maybe in the West 11th removals.
Flavors of Ramen You can find in Korean Convenience Stores
Not that great of a man married the hearing career you can buy a ton of different varieties from really delicious flavors my personal curry of course not a lot of it has been distracting but you can usually guess from there make sure it will be a nice calm powerful.
If you want to just take a guess in the picture and again there's a wheat varieties vegetarian varieties whole bunch of flavors and it's pretty delicious now in here we have the infamous soju soju is Korea's most popular alcoholic drink if you come to Korea.
Drinking Soju in Korea 
You'll probably see or hear about it quite a lot. I myself kind of a fan of soju it's kind of a strong flavor but many people swear by it it's definitely a big part of Korean culture.
And if you don't like the straight stuff there is a variety of wonderful flavors so I would try it. But don't try to like me wake up pants the best thing about convenience stores in Korea is look at a variety of different services.
It's not just a food – you can pay bills by transport cards you can buy various like basic medicines electronics and of course three for 24 hours a day.
And for many people if you don't have a kitchen you can just buy food here cook it here there's microwaves there's small ovens there's more to eaters it's kind of like everything you need.
In addition to Ramen, some Korean convenience stores have other full(er) meals that you can try. With the use of microwaves, you are able to heat up your meal and enjoy it right in the store.
Or, if the weather is warm enough outside, you can enjoy watching the crowds of people walk by while you are eating your spicy chicken ramen, sipping a cold beer or even a bottle of soju!