When you first hear about the opportunity to teach English in Korea, many questions – and some concerns – come to mind. Being a teacher in Korea can bring with it so many exciting adventures and experiences, which Eduard will talk about in the video below.
Let's break down in detail what Eduard discusses, so as to give you a better idea of what to expect in your year – or more – teaching English in Korea.
The First Days and Weeks in Korea
When you first arrive in Korea, the realization that almost everything is different than what you are used to back home is an almost unsettling feeling. The language is different, the food is different, the people in general are different. The first thing you may feel is that you don't belong and that is normal as you are a foreigner in a strange land. However, as Eduard points out: this is what you signed up for!
After a few days, you will find that things will start to normalize as you discover your new surroundings. With the help of your co-teachers and director, you will figure out the important things like how to work all of the appliances in your apartment, where your local grocery store is, where to buy yourself your morning coffee, how to get yourself to and from school, etc.
Remember: The management at your school understand that you are new to Korea and want to make your first days and weeks there as enjoyable as possible so that you can comfortably settle into your personal life in order to get your life as a teacher in Korea running as smoothly as it can be.
How Your Co-teachers are There to Support You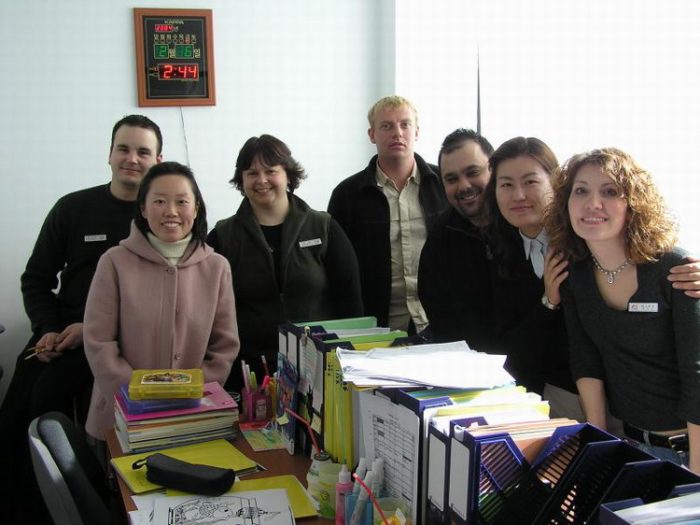 One of the great things about teaching English in Korea that people don't realize until they get there, is all of the friends you make!
The minute you arrive at your new school, you will be welcomed by all of the Korean and western teachers. The Korean teachers will likely be responsible for showing you the ropes at school, but the other western teachers will be there for additional support.
As each and every other western teacher has been in the exact same position that you are when you arrive, they will take you under their wing and make your first weeks in Korea as welcoming as possible. This really does help get over any doubts that you should be right where you are.
Homesickness and other feelings can sometimes be accentuated by the jet lag you may be experiencing, but you need to keep in mind that this is all part of the process and that once you get on the other side of it, there will be so much to explore and enjoy. Don't be afraid to lean on your new friends – as you will have a chance to repay the favor when the next new teacher arrives!
How Kind and Welcoming Korean People are to Teachers in Korea
Soon after you arrive to begin your new job teaching English in Korea, you will quickly learn just how friendly and welcoming Korean people are to foreigners. This kindness stems not only from the roots of Korean culture, but also from the pride that Koreans carry with them about their country, their language and their food.
In addition to this, as education is of the utmost importance to Koreans, teachers there are revered. Therefore, being an English teacher in Korea, you are automatically given this respect.
Trips Around Korea + Facebook Groups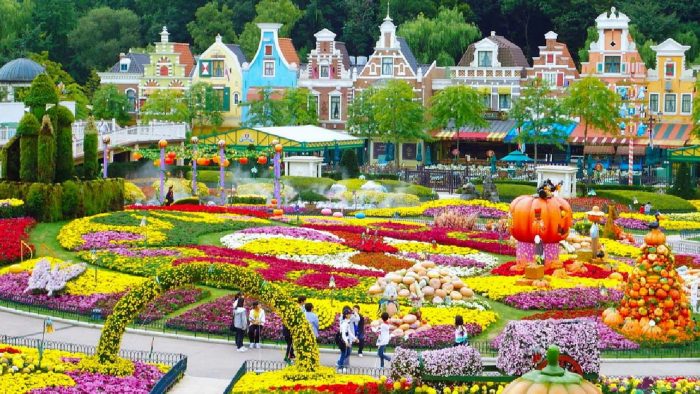 South Korea is a very small country, geographically speaking. On top of that, 70% of the land is mountainous, which doesn't make for a lot of room to the almost 50 million inhabitants.
However, the proximity of Korean cities to one another make for very short and easy travel across the entire peninsula! For English teachers in Korea, this allows for endless travel on weekends and holidays.
As Eduard talks about in the video, there are plenty of tour groups that offer all-in-one packages where transportation, food, tickets and accommodations are all provided and organized for you. Your only job is to meet up at the pick up spot and to go have fun!
One such tour group is TREK (Travel and Events in Korea) who organize weekend getaways for English teachers in Korea such as trips to places like Everland Amusement Park or to festivals such as the Tulip or Cherry Blossom festivals that take place in various  cities across Korea.
And, as Eduard points out, these trips are a great way to meet even more friends from different countries and it is likely that most will also be English teachers in Korea.
Teach English in Korea Programs & How to Find a Job
Regardless if you decide that you want to work in a large or small city, teach younger or older students, or prefer morning over afternoon schedules, there is no argument as to whether or not it is a bad idea to find a job on your own. Simply put: it is a very bad idea.
As long as you find a reputable placement agency such as Travel and Teach, you will not only find a great teaching job in Korea, but you will know that someone will have your back should anything go wrong in Korea where you need help, guidance or even a shoulder to lean on.
In addition to the after service that is provided once you get to Korea, getting to Korea is also a journey that you will need some help with. Having placed 1000s of teachers in Korea since 2001, all of our Placement Coordinators have the experience and the know-how to make the entire interview and visa processes go as smoothly as possible so you can get to your new life as a teacher in Korea!
Making Korean Friends in Korea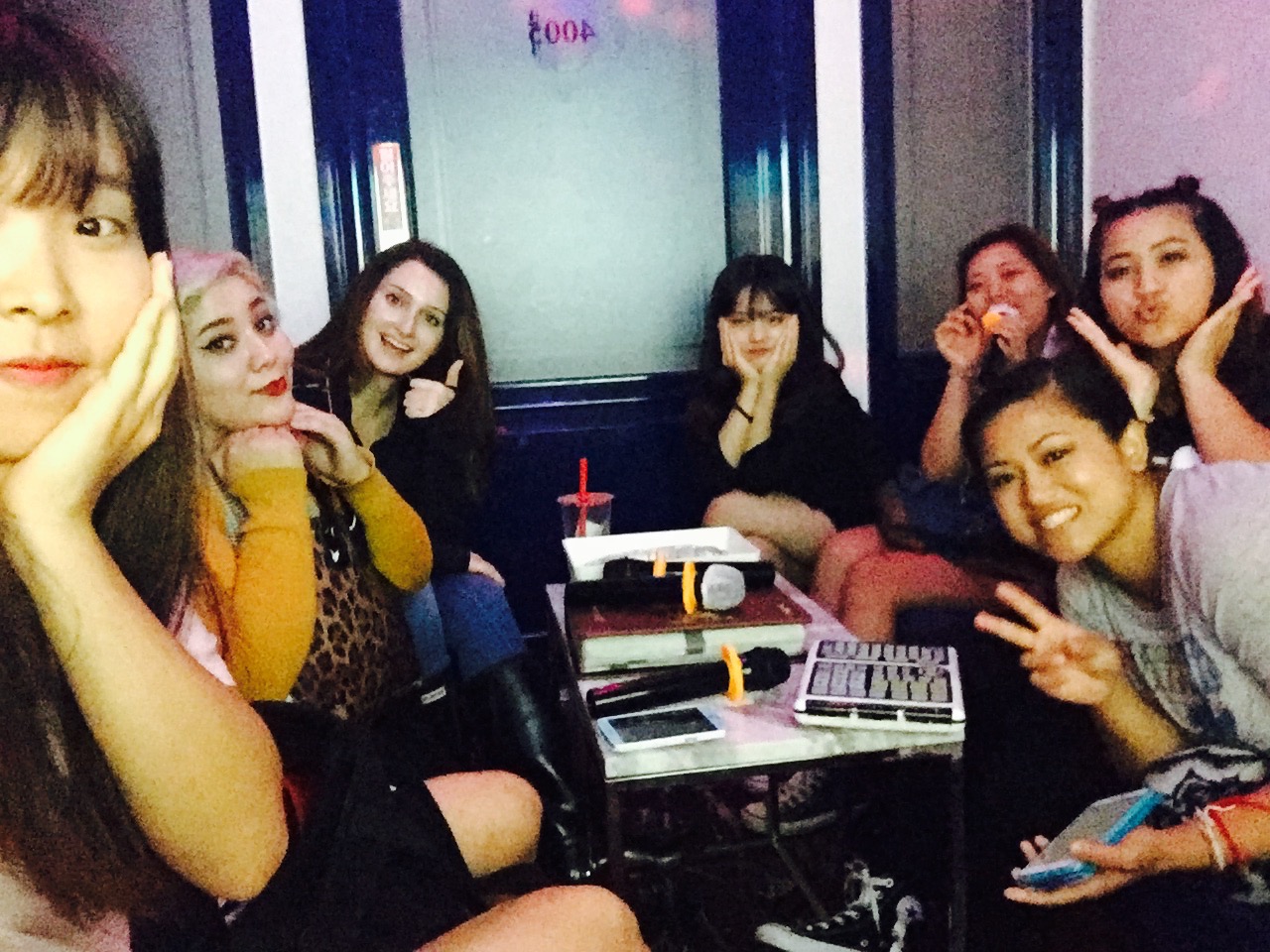 As mentioned above, a benefit of being a new teacher in Korea is that you will instantly become friends with your fellow western co-teachers as they have all been in your position before.
But what about your Korean co-teachers or other Koreans that you will meet?
As Eduard talks about, this is another great part of living and teaching English in Korea! As pointed out above, Koreans are very warm and welcoming people in general which translates to them also being good friends! Not only that, but as they are knowledgeable about the local 'hot spots', you will benefit from being in the inner circle and having a true Korean experience.
If you are interested in getting your teaching in Korea journey started, you can complete our application form here. If you have any questions for us, you can send us a note!
________________________________________________________________________________
Eduard Booysen's Teaching Adventure in Cheongju, Korea
Hello everyone my name is Eduard Booyson and I am a teacher here in Korea and I will just be sharing my experience with finding my job first of all, and teaching and living in Korea with you guys today.
I will be talking about life in Korea, teaching in Korea, finding a job and then just also using Travel and Teach, that I would really recommend to anyone out there.
First Days in Korea
So the first day in Korea you get here and you don't understand anything. It's a different language, different culture, the food is different – literally everything is different but to an extent that's kind of what you signed up for, so hopefully like in my situation you have really cool co-teachers and they just show you the ropes.  They take you out they explain everything and your director would also really help you with just setting up basic things like your bank account and your medical aid and everything like that. The school really helps you with that, so don't stress and also a cell phone contract or anything like that.
And then yeah so I think the first few weeks it is a bit of a "what am I doing here?" situation but I promise you once you find your feet you're gonna love it! Korean culture is so friendly and warm and it's really about community and the people are just always willing to help, so I would recommend it to anyone.
Traveling Around Korea 
Another good thing about living in Korea – it's not that big so it's really easy to just travel the whole country. The trains and the buses and the subways. It's so easy to understand and there's also a lot of English applications you can just use if you want to go to places.
I've been through the whole of Korea and it's so easy and it's not that expensive and there are also a lot of like Facebook tour groups. So it's companies and they organize tours and festivals and things like that for internationals and you just pay your deposit and they organize the bus, they organize the accommodation, they give you food and everything like so that's a great way of meeting people.
It's not that most cities that I know of have like a expat Facebook group or internationals or foreigners in the city Facebook group and people post there about meet-ups or just events happening in your city.
Meeting Friends in Korea 
And yeah I always say you just need to meet one person that you kind of feel like I like this person and then they'll just introduce you to everyone else, so it's not that hard even to meet new people and to yea meet people of different countries in different cultures and that's primarily why I am here – it's just to experience different cultures, different countries and it's a really, really great opportunity.
How to Find a Teaching Job in Korea 
So "how do I actually find a job in Korea?" that is the thing you're thousands of miles away or kilometers depending on where you're from you don't know – is it safe? Is it solid? What's going on? How much the contract will be what is normal what's not normal you don't know anything and that's why I would really recommend – especially if it's your first time – use a company, especially Travel and Teach.  Niko helped me with any question, even if it was something really not good, he would just reply so quickly.
And also they have a Korean native that helps with the communication with the schools just to clear all the fine print or any miscommunication or things like that. So a person that can speak Korean really well and knows the culture and knows things like that so I would really really recommend them and tell your friends as well about Travel and Teach – they're so professional. They help you even now I've been here for four and a half months and I know that if I have any problems or any questions or things like that I can immediately just message them and they will come back to me.
Befriending Koreans in Korea
So yeah, you also make a lot of Korean friends I didn't think that I'll actually make a lot of Korean friends but I have so many Korean friends and I love it because they know all of the well how can I say I know the Korean things to do they know the great the best places to go eat. They know about a lot of the cool things to do and stuff like that so you don't only make foreign friends like friends from other countries and things like that but you also make Korean friends and even maybe like you have a Korean family that adopts you or something like that.
So don't stress about anything like that just come be open mind and be ready for adventure and experience of a life time you will not only grow in your field but also as a person this is a great opportunity just to grow and to mature and to learn a lot more so that's me from Korea I hope you guys have a great day.